Philippa & Duncan have hired me for three days to capture their wedding weekend. Friends and family flew in from England and Germany to join and celebrate with friends from Stockholm and Gotland.
Biergarten: The festivities started on Thursday, beer and sausages at home in the garden in Högberga on Lidingö. Philippa is a garden designer, Duncan Architect-you could tell, amazing garden with thousands and thousands of flowers blooming every where.
Wedding bells: Friday morning I went to Högberga Gård. Duncan was going to wear a kilt, he is originally from Scotland and the family has their own clan color. It took him about an hour to get all the clothes on, including details. The shoes would be laced properly, the quilt fastened with heavy leather belts, the bag mounted, the knife attached to one stocking, the small sword attaching the skirt, I finally helped him to attach the corsage. Fantastic fun to see.
Philippa had her makeup artist from NK and hairdresser from Björn Axen on site throughout the weekend, skilled friendly guys. The theme was punk, the little hat, handmade boots etc. The bouquet in beautiful summer colors and feathers was made by herself, Philippa is a true artist with green fingers.
The guests was blowing soap bubbles, I shouted "kiss her" and to the guests "blow now" Just before the dessert was to be served I kidnapped the couple, wanted to give them one last picture in the warm evening light. When I asked Duncan to kiss Phlippa "not for the camera, but for real" he replied "This is my favorite moment".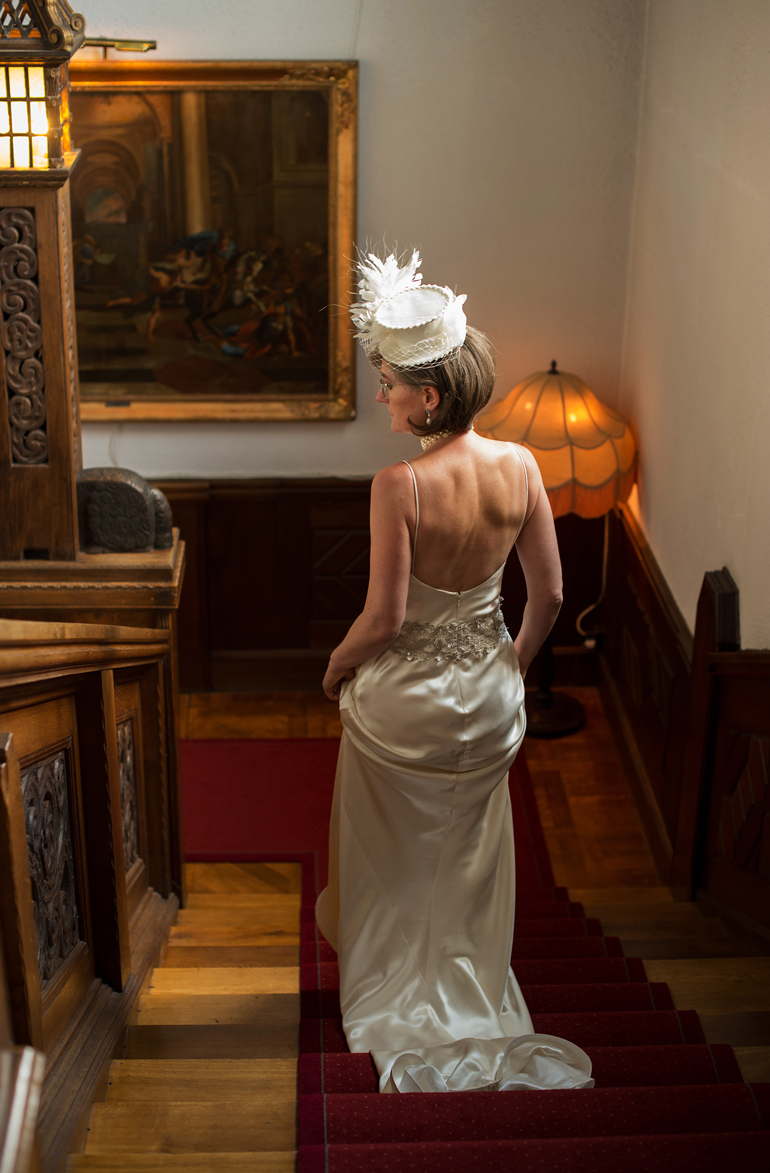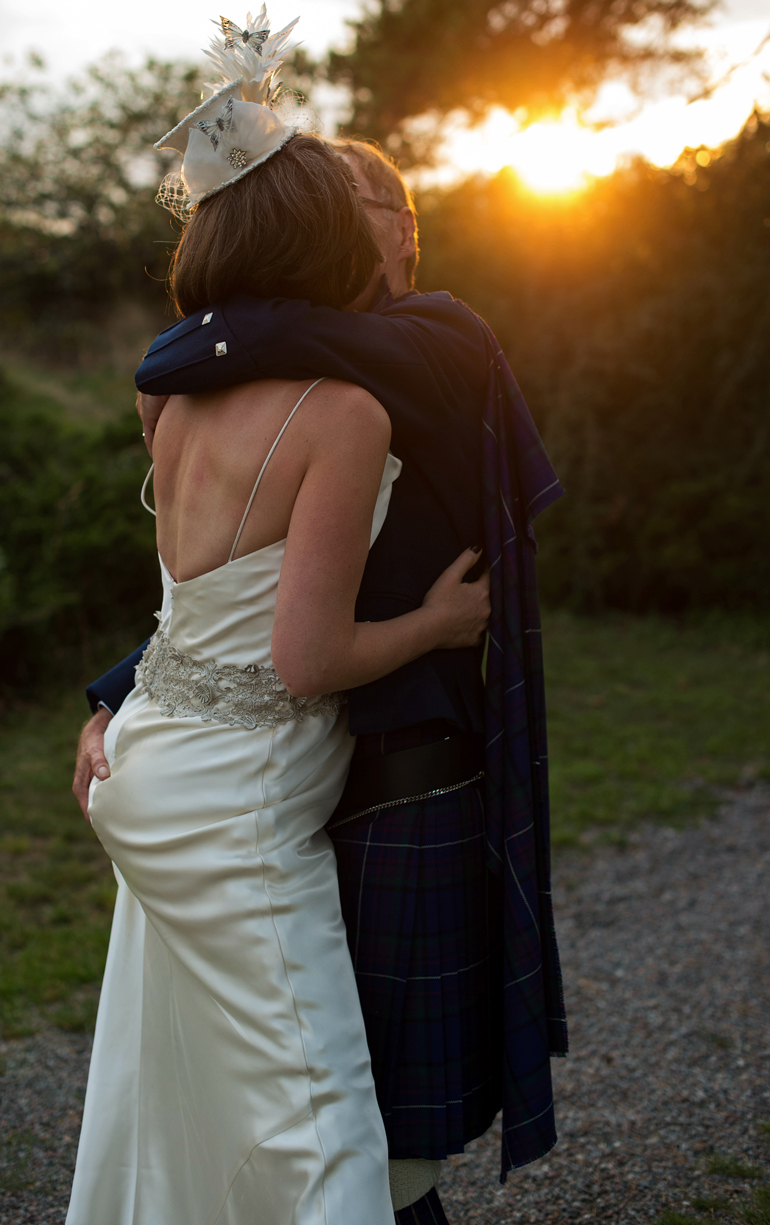 Afternoon Tea: I drove to Lidingö on Saturday afternoon to photograph when the wedding cake was to be cut, afternoon tea in the couples garden. As I was walking around with the camera, a little boy with tweed jacket and hat showed up, I took some pictures among the flowers and realized that it was so I was going to photograph Philippa and Duncan to get them relaxed. After a while Philippa said "lets do the cake" and when they started cutting the cake, they told the guests that they baked the cake in Mars, that they fed it with brandy every day, now it was time to enjoy.
Email from Philippa:
Wow oh WOW! They are beautiful. We have looked and looked at them and then looked through them again. We are so pleased :-) Soooo looking forward to seeing the rest.
Ulrika Jonsson – stylist, owner of clothes shop Ateljé 18, Lidingö
Dejan Cekanovic – hairstylist, Björn Axén
Eduardo Costa – make-up artist, NK, (Dior)
Dress – Garamaj
Shoes, House of Elliot, UK (handmade)
Hat – Jayne Alison Millernery, UK (designed and handmade by Jayne just for me)
Kilt – Kilts 4 All, London – the taylor's name is Stephen Jacobs
Kilt accessories – The Sgian Dubh Co, Scotland
Flowers at the wedding including my bouquet – Britt-Inger Wilhelmsson, Lidingö
We live in Brevik, not Högberga. ;-)
Your little helper in the hat is called Finn and his sister is Freja.
The wedding cake was baked as you wrote – several months before the wedding and fed regularly with brandy leading up to the wedding (once a month until the last month and then once a week). It was then decorated 1 week before the wedding with marzipan and then icing. Finally we continued the garden theme with fresh flowers.
Afternoon Tea with clotted cream and scones, sausage rolls and crumpets
Best wishes
Philippa & Duncan