Once upon a time…
Some people sneak into their hearts and rest there. So it was with Pernilla Åkerberg-Rånäs castle's own wedding coordinator. We got to know each other a number of years ago when I photographed a wedding at the castle that she coordinated. When it was time for her to get married, I had the great honor of perpetuating the wedding story. This was an assignment that made me happy and very proud. Preparations and wedding were covered with the help of my talented "second shooter" Annacecilia Hülphers when I was booked earlier for another wedding in the morning. Pernilla thought she was like a soft shadow in the morning, so to speak, and fun for me to hear. Pernilla and her Jonny decided to get married at fairly short notice and they wanted to keep the wedding simple and relaxed at the summer cottage in Ljusdal. She planted a lot of dahlias that bloomed just in time for the wedding and she then used those flowers for the bridal bouquet. She also said that she picked ferns in a nearby field to decorate in the morning. Pernilla makes all flower arrangements for Rånäs castle and she has such a nice feeling.
They helped each other with the clothes, Jonny played a little on the saxophone, then it was time to go to the wedding venue. The guests were transported there by tractor trailer, Pernilla drove the lawnmower with Jonny sitting in the back. As the small chapel can only accommodate 30 people, the ceremony was held on the stairs outside. All guests had champagne in their glasses when they arrived and the bridal bowl was held at the wedding venue immediately after the ceremony.
There were musicians playing accordion and violin and one of Pernilla's colleagues from the castle who sang. Jonna, who is responsible for the bar service at the castle, made sure that everyone's glasses were refilled at all times, and she also did Pernilla's hair and make-up.
I took the bride and groom to a beautiful place with an old mill very close to the farm, where we got to be for ourselves for a short while. I climbed a ladder that one of the sons came cycling with, wanted to get the feeling of a bird flying over the place.
We got completely free hands to photograph the day as I and Annacecilia wanted, and see how nice it turned out.
Go ahead and enjoy until we get to celebrate life's big and important events together again.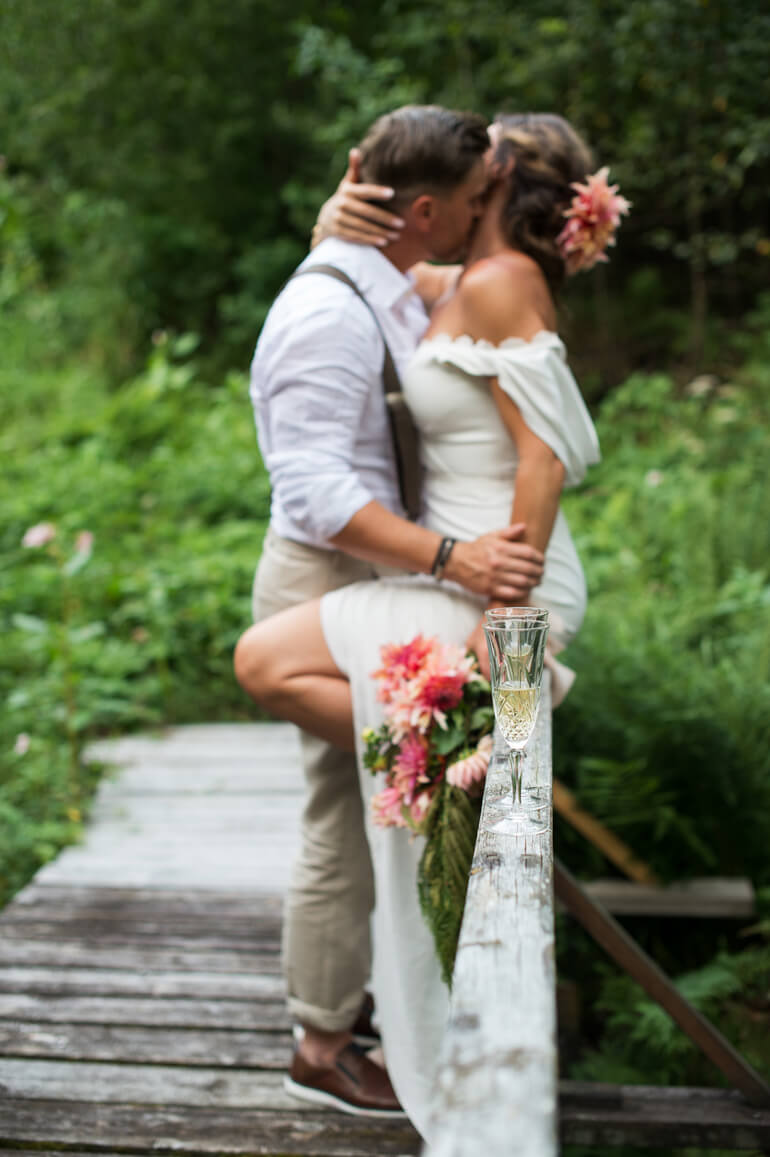 Attire in black and white and the following three moments so nicely captured by talented Annacecilia Hülphers.