The most powerful Viking warrior was a woman !
Sometimes I photograph for my own desire, to express a feeling.
Annacecilia and I went up to my cottage on the coast of Hälsingland, next to a nature reserve in the outermost sea.
Bear and wolf walk here, foxes and lynx, it's wilderness.  The Vikings had a sacrificial place very close to my cabin, sometimes I light a marshall on the Viking grave which is located a bit into the forest.
I have a hard time putting into words what we did, but my intention was to show the survivor.
Of course, it also has to do with illness and death, the situation we are in world wide, the fear and the sense of life after all.
My father bought a beautiful knife from a gypsy once upon a time, such beautiful work with cut roses. He gave it to me when I moved, when I was 21 years old. Dad passed away last autumn and when I made a nice place at home, I put the dagger next to his portrait and the candle that I usually light in the evening. Now the knife became props, and I did not want to use clothes, naked is so beautiful. I was also thinking about my upcoming show in New York, Long Island at The Maidstone Hotel. Opening May 2022, hanging until July 2023.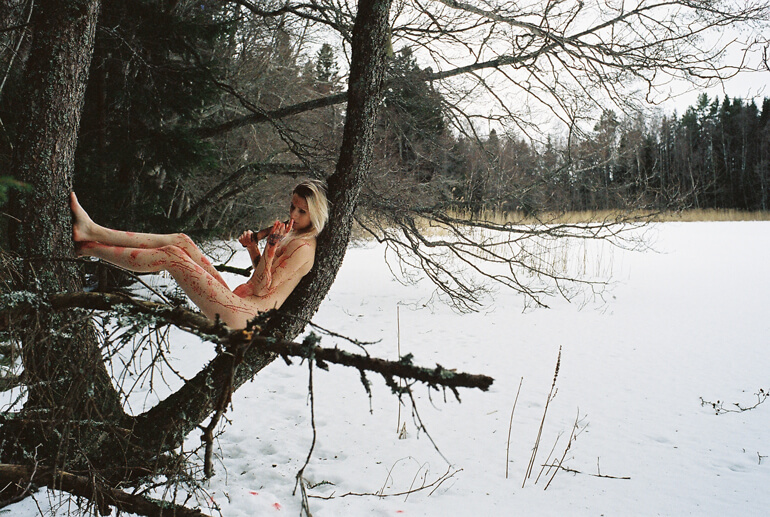 When we were done with the photography in the forest, Cissi said "Now I want to warm up in the sauna and drink wine" so I lit a fire and finished with some beautiful portraits through the sauna window.