For the third year in a row, I have had the pleasure of exhibiting at Planket, fantastic fun and an honor to be especially invited by the organizer who wants to ensure quality breadth and diversity. The organizer writes: More than 16,000 visitors. 2019, just like previous years, participated in a mix of everything from wannabes to world-renowned photographers.
PlanketSthlm 2019 took place this year for two days, 17-18 August, in and around Lilla Mejtens Gränd / Malmgårdsvägen.
Here everything from Pinnholes to Silvergelatin and digital prints were shown, in everything from small polar pictures to meter-high works. Ensure breadth and diversity. New technology as well as old ones are emerging on the spot.
PLANET Sthlm began in 1982 with photographer Neil Goldstein being inspired by the outdoor exhibitions in Washington Square Park in New York. Together with Irene Berggren, Lars Hall, Brother Karlsson, Gunnar Smoliansky and Rebecka Tarschy, a tradition of outdoor exhibitions was founded on the red plank in the alley of Lilla Mejten below the Vitabergen in Stockholm.
Minister of culture Leif Pagrotsky mingels.
I showed my photograp "Homage". You can see this and 11 more at my exhibition this fall Grand Hotel Saltsjöbaden.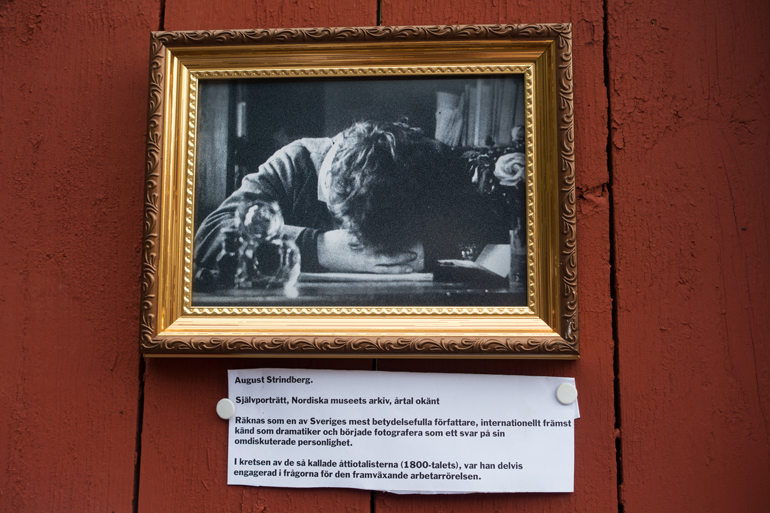 Anders Petersen signing his book, exhibits at Liljewalchs right now.
This is the creator of the exhibition, Christer fjellis Fjellman.